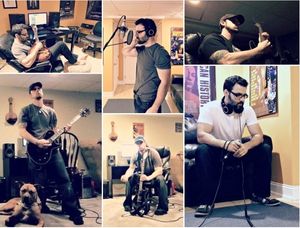 Bio:
Burn the Rez is a Rhode-Island based indie Alternative/Rock band, whose 2014 self-titled debut features dark vocal melody & harmony, towering walls of guitar & orchestral strings, and intimate arrangements of cello, piano, & acoustic guitar. Influences include Red, Coldplay, Alice in Chains, Cold, and Deftones.

About us:  We're a 2-piece band/studio project, 100% self-produced – we write, compose, perform, record, mix, and master all elements of our music. Control freaks? Yes. Our story began 15 years earlier in the high-school metal band the 2 of us formed together. We tirelessly practiced, played local club gigs and had visions of rock stardom. Soon after high school ended, careers and families became our priority, and by our early 20's we had let our musical aspirations fade into the background. But we never lost touch, never stopped writing music, and after 10 years we finally decided to stop reminiscing and start recording an album, "Burn the Rez", released in 2014.

We love connecting with our fans through Twitter (@burntherez) and Facebook (BurntheRez) so drop us a line.